Today I have some special things for everyone! First, I will show off the finished creation I have been working on. Next I will get to show you a new listing for the day. BUT, the BIG and BEST part will be my featured artist!! Today's feature is not only on a fellow beadweaver, but someone whose work is simply amazing!!! SO, you really MUST read through this post, you don't want to miss any of it!!!
***~***~***~***~***~***~***~***~***~***~***~***~***
Yesterday I left you with this photo, but then, I just had to finish it, so I worked and worked!! And let me tell you what, I just love the way it turned out!!
What do you think???? I have to say that it looks and feels like lace!! I am so very proud of this creation!! Please click on the photo to see the listing and more photos!!
***~***~***~***~***~***~***~***~***~***~***~***~***
And what does it mean if I finish a project??? Well, of course, I start a new one!!! I have already pulled the colors for the new creation, what do you think??? ANY guesses yet?? Remember, you can watch the creation grow on my
Fan Page
or
Google+
page throughout the day!!
***~***~***~***~***~***~***~***~***~***~***~***~***
This one is open to US, UK and CANADA!! Click on the photo and go enter….remember, there are daily entries!!
***~***~***~***~***~***~***~***~***~***~***~***~***
Today's featured artist is Ms. Mortira, the talent behind
Inspirational Beading
and
Sages Cupboard
. This woman is so very 'inspirational' to me, and many others not only in her beading talent, but also in the support she provides other beadweavers and beaders. Here is an interview that I did with her!!
1. What is your all time favorite beading technique?
It's always difficult to choose one true favorite, especially in beading, but I'm very attached to herringbone weave. It's easy and versatile, works with many types of beads, and can be incorporated into many different project styles. I love the texture of a finished piece of herringbone, and it takes geometric patterns well.
2. Where/how do you first learn to use this method?
I vaguely remember trying to learn tubular herringbone from a beading book, and failing miserably at it. I was learning a lot of new techniques at the time, and many of them seemed impossible. At some point, I found a project tutorial that I liked enough to really try mastering herringbone, and fell in love. I immediately started experimenting with variations.
3. Of all the creations you've made with this technique, which one is your favorite?
Herringbone really clicked for me when I finally started using it for beaded ropes. My all time favorite project started with a comment on a rope I was stitching with a seed bead mix – my husband asked me why I was making corn. The resemblance was suddenly so obvious that I had to take it to the next level. I ordered lots of orange, yellow, and brown seed beads and charlottes, and spent the next several weeks making my Cornucopia lariat.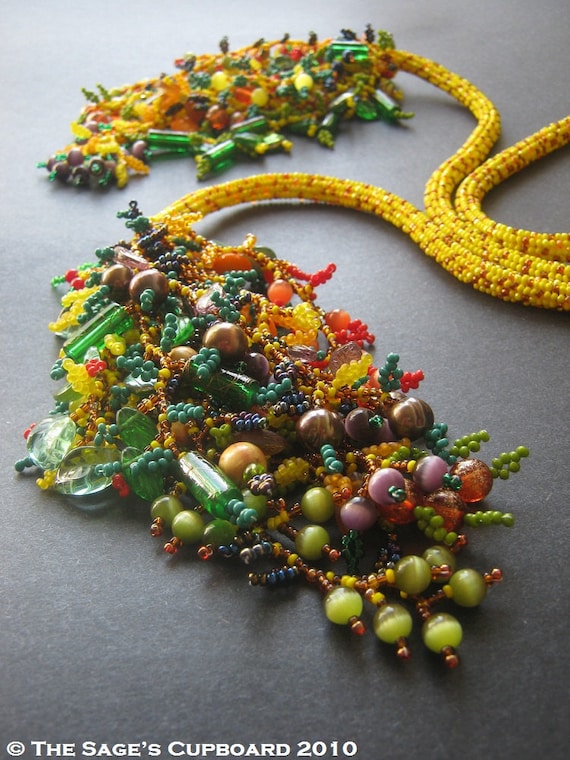 4. Can you share any tips for getting started with this method?
Start with flat herringbone, and choose beads that you like working with. Herringbone looks great with Czech or Japanese seed beads, Delicas, cubes, or triangles, so use whatever you're most comfortable with. Herringbone weave also looks fine even when your tension is a little off, so it's a great stitch for beginners.
5. Do you have a favorite material or color to use it with?

I love using opaque seed beads with herringbone, because they really show off the beautiful pattern within the beadwork. Chromatic colors and black and white stripes are my favorites.
6. If someone had to choose to learn only one technique, would you recommend this one?
Herringbone isn't as universal as other stitches like right angle weave, but it does go a lot of places. Necklaces, bracelets, rings, accessories, décor…I would definitely recommended herringbone as a desert island stitch for anyone that likes meditative beadwork with lots of options.
7. What is your least favorite thing about this technique?
The only trouble with herringbone is that it's difficult to make the ends of the beadwork identical. I always start with a two-bead ladder base, and getting the final rows to line up as neatly is nearly impossible. Once the trim is added, the difference isn't noticeable, but it's a flaw nonetheless.
8.Do you use any variations? Which one is your favorite?
I love ordinary flat herringbone, but I often mix things up with increases or embellishments. Tubular herringbone and twisted tubular herringbone are my favorite variations – they create a strong and sturdy rope with a wonderful texture.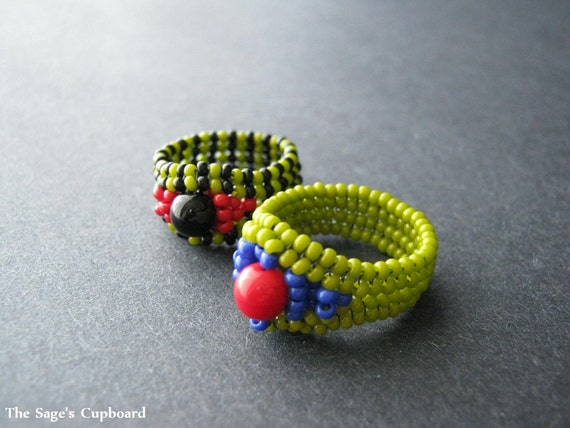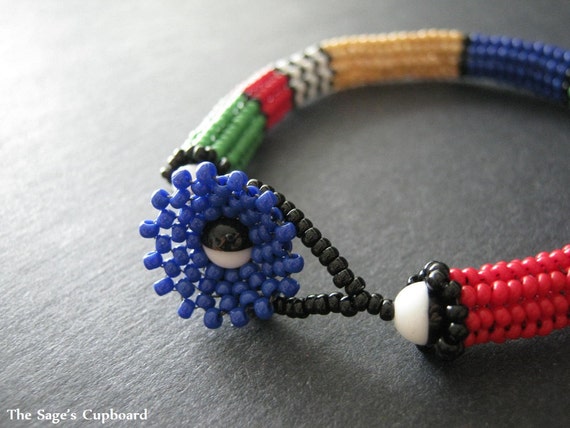 THIS is one of MY personal favorites of hers!!! Just look at the colors and details!! It has sold – come time ago – but it is still one I have loved for years!!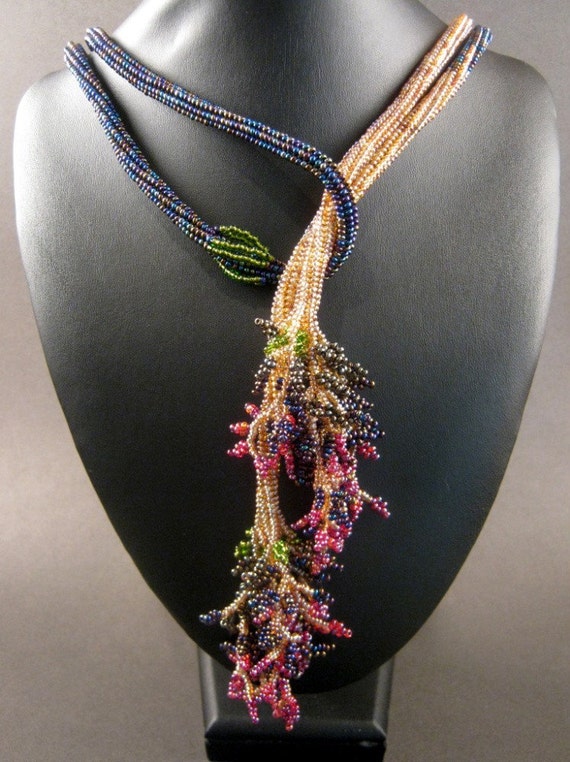 ***~***~***~***~***~***~***~***~***~***~***~***~***
Today I would like to leave you with this thought;
Try no to become a woman of success but a woman of value.